OLFICTION /ɒlˈfɪkʃ(ə)n/
noun
1. The meeting point of olfaction [the action of smelling, the sense of smell] and fiction [literature that describes imaginary events and people, storytelling].
2. A unique fragrance consultancy specialising in perfumery and storytelling.
We love using our unique set of skills and experience to help our clients in all kinds of fragrance-related matters.
We are passionate about inspiring people. We want everyone to enjoy scents, to enjoy their sense of smell and to learn more about the world of fragrance.
We are Nick Gilbert and Pia Long and we've lived fragrance for most of our lives. We share a love of all things fragranced, a similar professional background and a pragmatic approach to problem solving. Our growing collaboration became a signpost. We have worked behind-the-scenes in the fragrance industry for a variety of businesses over the years and built our own specialisms. It became clear that our clients would benefit from being able to tap into our combined expertise and Olfiction was born.
The business we started in 2016 has now grown to include additional staff, expertise and resources to help us meet almost any kind of client demand.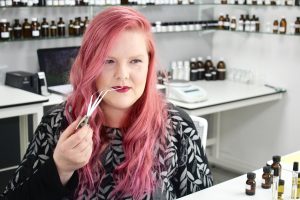 Pia Long became a published writer at the age of 9 and after landing a fragrance and cosmetics role in her teens, has worked in almost all areas of the industry: sales, marketing, training, instructional design, retail support, product development, quality control and perfumery. The twin passions of writing and fragrance have shaped Pia's life and career. She has a uniquely broad insight into how fragranced products end up on the market; who makes this happen – and how people shop for fragrance. She has worked as a junior perfumer for a global cosmetics brand, a perfumer and technical manager for a fragrance supplier and perfumer & training manager for a fragrance industry consultancy. Pia has a monthly column in the leading trade magazine Perfumer & Flavorist and contributes to many other publications. She is a council member of the British Society of Perfumers.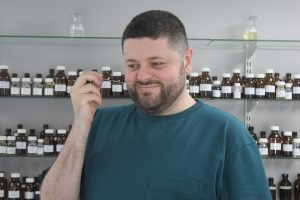 Nick Gilbert is an experienced fragrance trainer, evaluator, marketer and consultant. His career started in fragrance retail and moved on to marketing, fragrance development, evaluation and training development for some of the world's most highly regarded brands. Nick has also provided the social media backbone for many fragrance brands and knows how to build online communities and engage consumers. Nick is an experienced fragrance blogger and copywriter – he creates evocative product descriptions, insightful articles and engaging content. Nick was described as "the most knowledgeable person on fine fragrances I've ever met" by a renowned R&D perfumer, which is no mean feat.