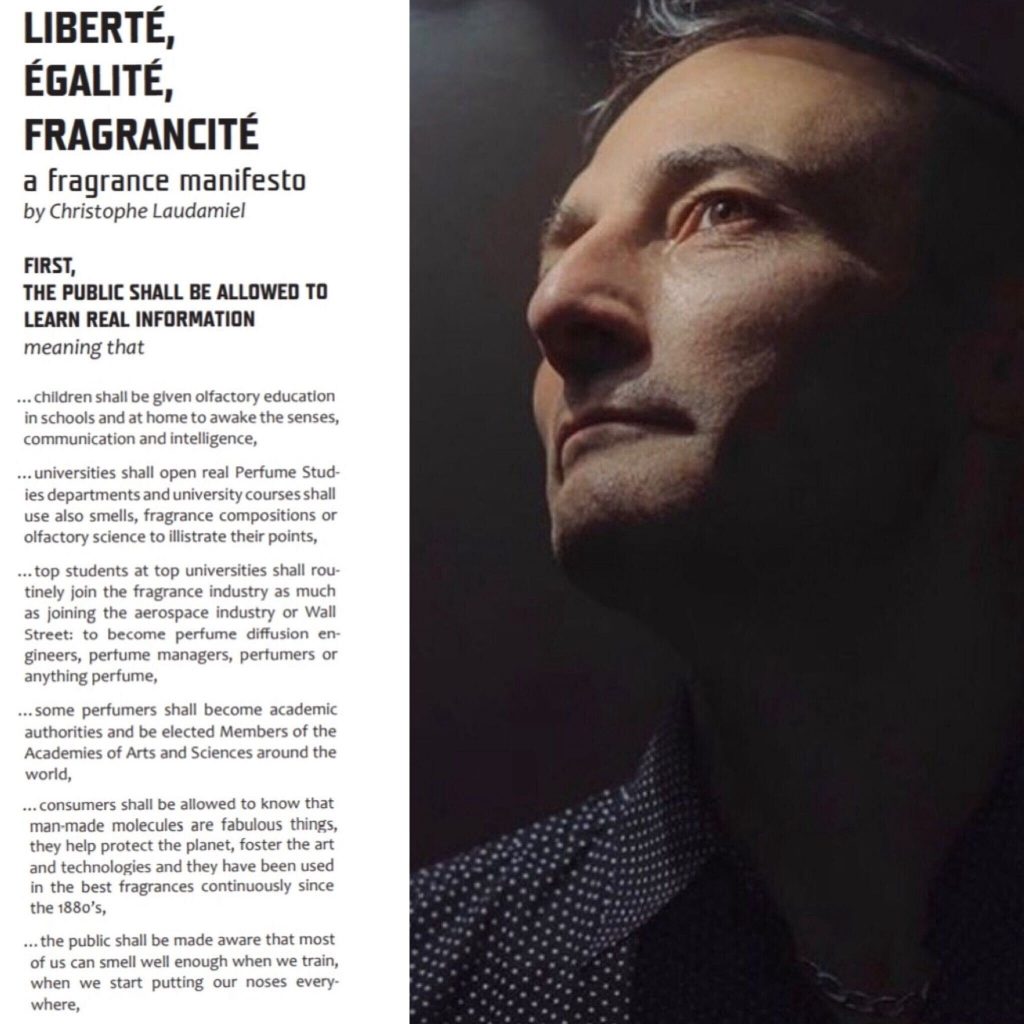 How do you become a perfumer? What are perfumes made of? Who creates perfumes and how? What does real lavender oil smell like? What is "cashmere wood?" …hundreds of questions and thoughts that float around in the minds of consumers and those interested in our trade – yet we still lack a framework of academic level education that other arts have, much less real public access to genuine, accurate information. It is emerging – from various sources simultaneously – but how is a layperson to know what is true, what is twisted, and what is complete nonsense?
The perfumery educators
Wouldn't it be amazing if the general public had access to real information about perfumery? This is a driving force behind what we do at Olfiction when we participate in communication about our trade, and this was the major theme in Christophe Laudamiel's manifesto, written years ahead of its time. In fact, one of the reasons I called Christophe a "Perfumer of the Future" in my profile of him for Perfumer & Flavorist in 2017, is the tendency of his to be several steps ahead of the possibilities our trade is yet to explore; and the vision he has of what the world could be like if perfumery truly would be accepted as a legitimate art form, instead of considered just commerce. What better person to invite for an open discussion on the topic of perfumery education – and this is just what we did at the British Society of Perfumers. Marianne Martin (current vice president, BSP), and Nicola Pozzani (bespoke perfumer at Floris, and a scent art lecturer), joined Christophe for an evening of relaxed but passionate discussion on what kind of education is available now, and what would be ideal in the future.
The event was recorded, and should it become available to the general public, I will edit this post to link to it from here. Members of the BSP will be able to access the audio recording in the members' area of the website soon.
Some big themes from the night:
Current perfumery education is focused on serving commercial needs of the trade – preparing future perfumers to enter the trade.
Other arts have education for its own sake; to learn how to create and use the chosen medium without immediately and/or exclusively diving into how to create consumer products
Everyone should be able to fully participate in exploring their sense of smell, with some benefits beyond the obvious. Nicola Pozzani called perfumery education a form of therapy. His teaching often focuses on how to use fragrance as an aid to creation in other modalities.
As a higher education lecturer, Marianne Martin has the ability to see that even if students from an academic course would not go on to become perfumers or even work in the trade, "perfumery education would be an education for life."
What could we do to improve perfumery education? And education for all; not just those wishing to enter the trade. It's obvious that the general public are already being "educated" – by fear marketers; misinformed sales people and social media personalities with no deep knowledge about the topic. And what would happen if more consumers demanded quality from their fragrances in the sense of "not just another copy"; or honesty about marketing (so many brands still using tired tropes or outright lying).
What would it look like if we could engage millions of people with their sense of smell more? And give access to information and inspiration for life – an enhanced form of being present, observing, enjoying life.
Next BSP virtual perfumer panel
The next BSP virtual event is also a perfumer panel – this time, professional noses from multiple regions (USA, UK, India, and Greece) discuss their route to career, what they get up to in their role on a daily basis, and their perfumery process. The discussion is due to take place at 2pm BST