Extraordinarily polarising, tuberose can be seen as something of a 'Marmite' ingredient within perfumery, with some people adoring the heady sensuality it can lend to a fragrance while others profess to loathe it. Robert Piguet's Fracas is probably the most widely known tuberose perfume. Fracas originally launched in 1948, featuring an overdose of tuberose amidst a veritable explosion of white flowers such as jasmine, gardenia, white narcissus and lily of the valley. A true icon, the provocative trail Fracas blazed had long been neglected, with cleaner, quieter trends shying away from this 'harlot' of the floral world.
Now the tide has turned, with recent releases showcasing tuberose trending across both niche and designer fragrances, and in a variety of intriguing interpretations. The perfume-buying public are asking for stronger-smelling and longer-lasting fragrances, and it's time for tuberose to take centre-stage once again. We examine some notable examples of how brands have reinterpreted tuberose for their launches in 2017.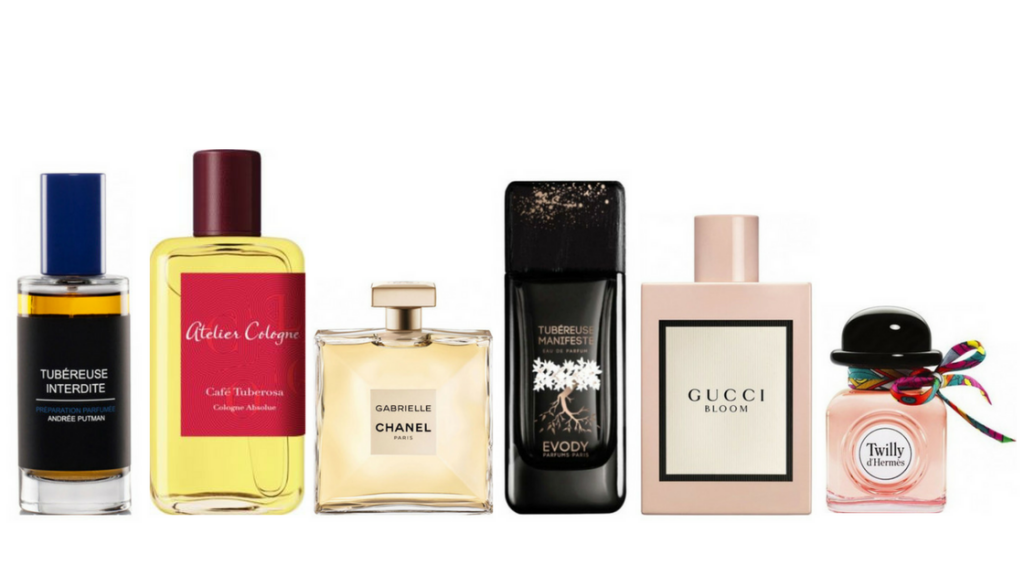 Atelier Cologne Café Tuberosa
The surprising addition of coffee adds a freshly ground, bittersweet richness that segues into a mocha-like creaminess which, combined with the cacao, cardamom and vanilla, adds a decidedly gourmand aspect to this floral. The 'Cologne' tradition of the brand is less obvious, here, with bergamot used to add juiciness and balance the richer notes.
Hermès Twilly
Actively engaging the younger consumer and inspired by their colourful, narrowly twirled silk scarves, perfumer Christine Nagel added a fresher twist with a ginger note that blends into a powdery muskiness and hints of the tuberose peeking through, but never dominating. Quoted as having created the fragrance "with young women in mind," Nagel describes it as reflecting their "free, bold, connected, mischievous and irreverent" characters.
Chanel Gabrielle
Described as a "solar fragrance created around four points of light," perfumer Olivier Polge created an accord that evoked "the dream flower" that could represent Gabrielle Chanel herself. Using Grasse tuberose with orange blossom, ylang ylang and jasmine, it's a lightly sparkling floral fragrance that's more akin to a cool breeze blowing across a bouquet, rather than burying your face in the blooms.
Gucci Bloom
A modern take on the iconic Fracas theme, perfumer Alberto Morillas used tuberose in conjunction with jasmine sambac, the woodier accent of orris root and a new accord of 'Chinese honeysuckle', also known as Rangoon creeper or Combretum indicum – a note that's exclusive to this fragrance. Fizzier than Fracas and full of light, the tuberose feels opulent yet joyful and contemporary.
E Coudray Rose Tubereuse
The tuberose here is harmonised by Bulgarian rose, ylang ylang, geranium and orange blossom. Perfumer Cecile Zaokian enhanced the sweetness of the bloom with tonka bean and vanilla while balancing with fruity notes of bergamot, tangerine, guava and rhubarb. Spiced with clove, smoothed by sandalwood, the tuberose becomes part of a powdery, soft roundness punctuated with juicy notes.
Andrée Putman Tubéreuse Interdite
A richer, more intense take on the Fracas classic, the headiness and sensuality aren't shied away from, and further enhanced by the narcotic qualities of gardenia and orange blossom. The piquancy of white pepper adds a distinctively modern spice to the top notes while the base of musk, amber and benzoin feels more traditional in character.
Evody Tubereuse Manifeste
Intriguingly adding alcoholic top notes of rum and a background of leather, perfumer Cecile Zarokian plays with the addictive, intoxicating aspects of tuberose in a more unique take on the ingredient, inspired by surrealist art movement. Described as "a travel through an erotic dream, carnal, sensual," the smoother notes of labdanum and benzoin fuse with the animalic for an intoxicating experience.