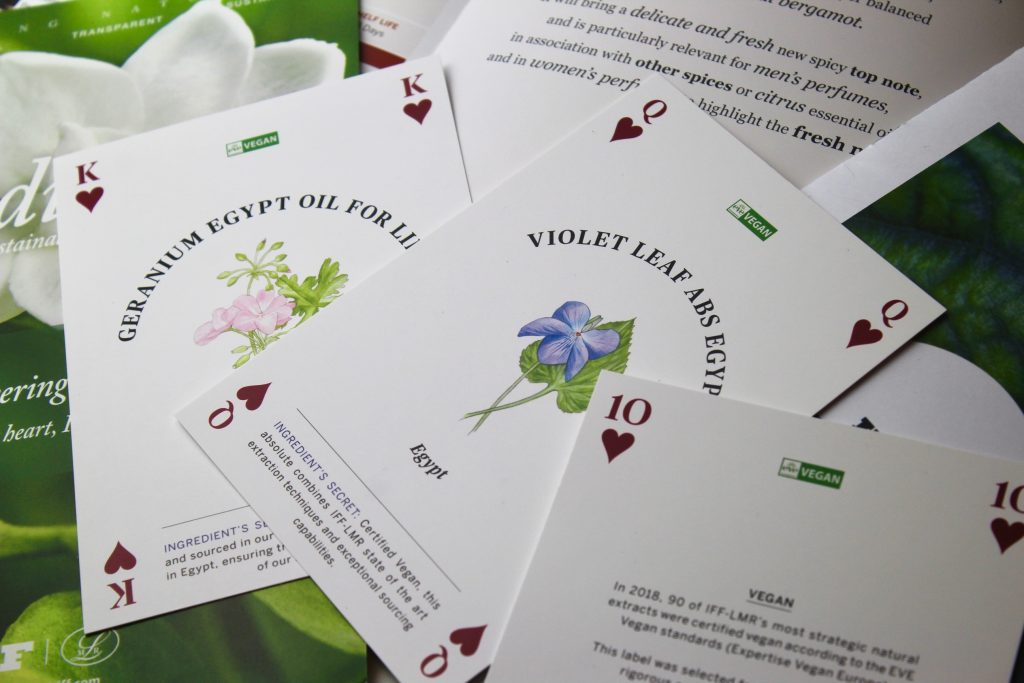 A week or so ago, we were lucky enough to attend the IFF-LMR Speed Smelling Event hosted by the
British Society of Perfumers (BSP) at the Royal Society of Chemistry in London. Representatives
from IFF-LMR were in attendance to showcase some of their flagship materials from a number of
categories, all of which were available to smell, at speed, during the evening.
LMR, or Laboratoire Monique Remy to use its full name, was founded by Monique Remy in
Grasse, in 1983 and acquired by IFF (International Flavours and Fragrances) in 2000. The
company specialises in sourcing natural materials from all over the globe, focusing on
sustainability and fairness at the very core of its business. So, when it comes to natural materials,
IFF-LMR materials are considered to be some of the very best available within the perfume
industry, and with this in mind, we couldn't wait to start speed smelling and get some of those
beautiful materials under our noses.
But what is Speed Smelling? Well, Speed Smelling is a lot like speed dating, but much more
exciting. Essentially, we were given ten minutes to spend with two IFF-LMR natural materials that
were presented to us on each table, of which there were eight in total. At each table we were
invited to play a game to help us reveal what the materials were, and these games varied from
puzzle pieces slotted together to form a picture of the material, to riddles, and blindfolded 'guess
the material' games. After the materials were presented in isolation, we were invited to experience
a perfume composition with and without one of the materials, to highlight how the material can be
used within a typical fragrance.
Whilst the Speed Smelling was certainly quick, the experience was illuminating and we had the
opportunity to really get to grips with these fantastic materials, both in and out of perfume
compositions, to see what they add to a perfume and how they change when placed in the context
of a composition.
Each of the tables had a different theme, whether that be vegan materials, materials that are
certified as fair, and new materials. The selection was diverse and traversed, not only the wide-
ranging olfactory families, but also the far reaches of the globe, bringing together 16 fantastic IFF-
LMR materials.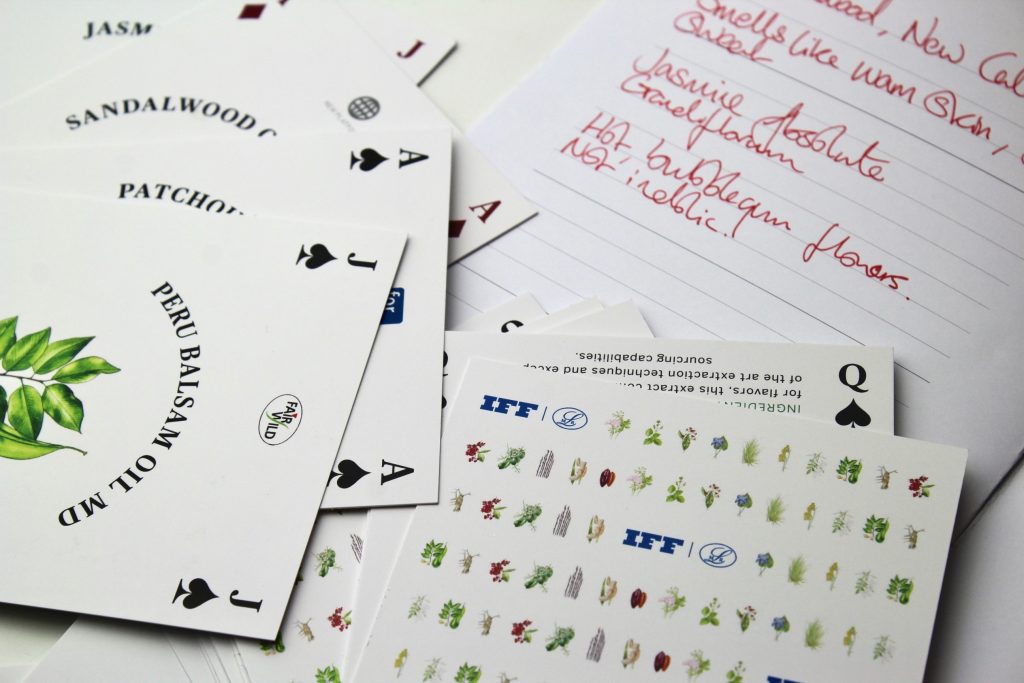 In the spirit of Speed Smelling, you can find a quick outline of the themes and materials below:
For Life/Fair Wild
On this table we smelled materials that were certified as "For Life" (a certification that recognises
an organisation's adherence to specific sustainability criteria, including transparency,
environmental responsibility, fair working conditions and positive relations with producers and local
communities) and "Fair Wild" (standards used to ensure the continued use and long-term survival
of wild species and populations). We smelled:
Peru Balsam
(Warm, resinous, sweet, and green)
Patchouli Oil Indonesia For Life
(A remarkable clean patchouli that is clear in appearance due to low levels of iron)
Vegan
On the vegan table we smelled IFF-LMR vegan materials. These materials undergo a full audit to
ensure there is no contact with animals throughout the supply chain:
Geranium Egypt Oil For Life
(Fresh and rosy with a hint of mint)
Violet Leaf Absolute Egypt
(A violet leaf note with a strong leather backbone)
Blockchain
The theme of the blockchain table was traceability and IFF-LMR showcased how they can use
blockchain technology to allow consumers to trace every step taken for each material in the supply
chain. We smelled:
Blackcurrant Bud Absolute Burgundy
(A punchy, animalic note with hints of juicy blackcurrants)
Vetiver Heart
(Spicy, earthy vetiver with a pronounced grapefruit facet)
LMR Heart
Healingwood Blo
(A pure and woody patchouli with a hint of camphor)
Patchouli Heart Nº3
(A clean patchouli within facets of fresh apple and camphor)
New Platform
The new platform table showcased materials IFF-LMR have sourced from new places in the world.
We smelled:
Sandalwood Oil New Caledonia
(Woody, skin-like, salty, slightly sweaty)
Jasmine Absolute India
(Hot bubblegum flowers with a warming hint of indole)
Mystical
The mystical materials were those with ancient beginnings: We smelled:
Myrrh Oil
(An unusually dry and woody myrrh)
Olibanum Oil
(A perfume in itself – silvery frankincense with a beautifully golden citrus facet)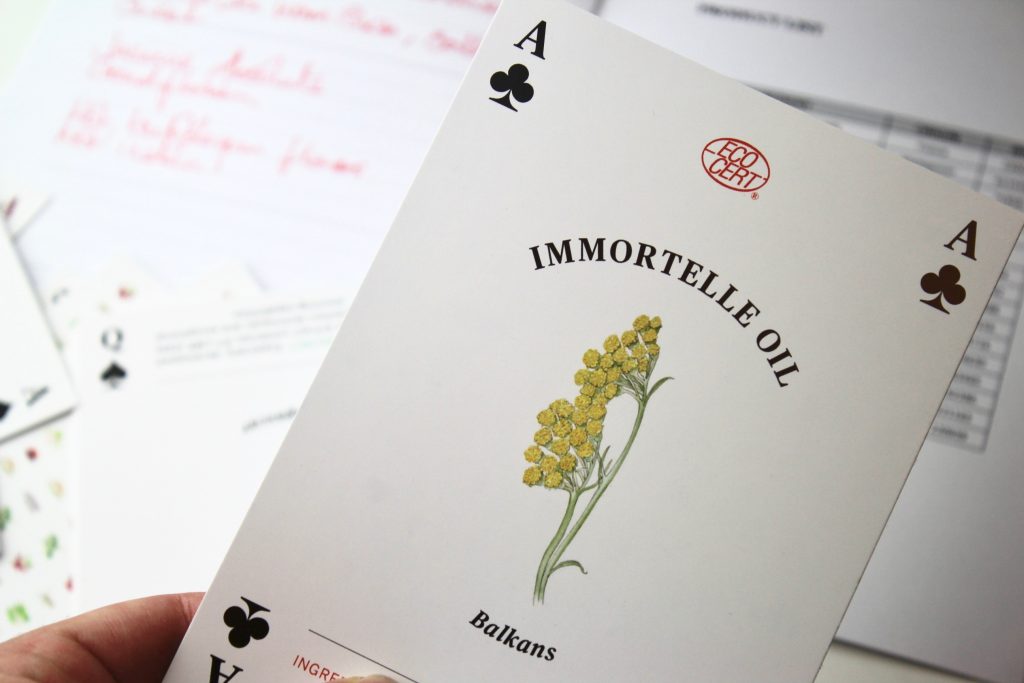 ECO Cert
At the ECO Cert table we smelled materials that are certified as organic:
Ginger Oil Fresh Madagascar Organic
(The zingiest, freshest ginger – evocative of slices of fresh ginger in a sushi bento box)
Immortelle Oil
(A soft, suede-like immortelle with a pronounced whisky facet and only a hit of spice)
New Ingredient
At the final table we were introduced to two new materials. We smelled:
Pepper Sichuan Absolute CO2 Extract
(A bright, floral pepper with a strong citrus facet)
Cocoa Extract 12% PG
(A deliciously creamy and sweet cocoa with no animalic facets)
During our table-to-table exploration of IFF-LMR materials we found several olfactory connections
and whilst we didn't go home with any of the materials we speed sniffed (it would have been
difficult to pick just one), we still can't quite get the Olibanum, Ginger, Cocoa, Jasmine…. well, all
of them, off our minds. We'd say that was a successful Speed Smelling event, wouldn't you?
You can find out more about the BSP and their events at the BSP website. Info on IFF-LMR can
be found at the following link.