Last week, Olfiction travelled to Florence for the Pitti Fragranze trade fair. Our main purpose for the trip was to celebrate the debut of Terror & Magnificence, the fragrance Olfiction perfumer Pia Long has created for BeauFort London. But this wasn't our sole purpose and Pitti provided us with a great opportunity to network with people from all aspects of the industry in addition to scoping out all of the new and exciting launches there were (and to eat lots of pizza too, of course).
With an expansive range of exhibitors, Pitti was packed to the rafters with lots of fragrance and some beauty, too. There was a real trend for simplicity and despite a few exceptions, the focus seemed to be on unpretentious packaging and fragrances that held personal significance with those that created them. With new and exciting things in mind, we want to share with you some of our highlights from Pitti – the greatest hits of what we saw and smelled, if you will. There really was a wealth to choose from and a huge variety of brands, each offering their own unique spin on the art of olfaction. Those below are the ones that most resonated with us.
Parfums Dusita
Poetry and scent merge beautifully with Parfums Dusita – a brand created by Pissara Umavijani, a Thai perfumer who is now based in Paris. Pissara's father, Montri Umavijani, was a poet and his words accompany each of the fragrances in the collection, serving as a personal tribute to his life's work through the artistic endeavours of his daughter. Splendiris, one of Dusita's latest creations, caught our attention with its soft, violet-centric take on iris – Splendiris is ethereal and calm but not without presence and serves as a delicate take on the interplay of violet and iris, presented with beautiful lines of poetry: "I write by the candlelight, in a night wrapped by many layers of dreams". Parfums Dusita is an exciting brand and we are looking forward to see where they go next.
Pekji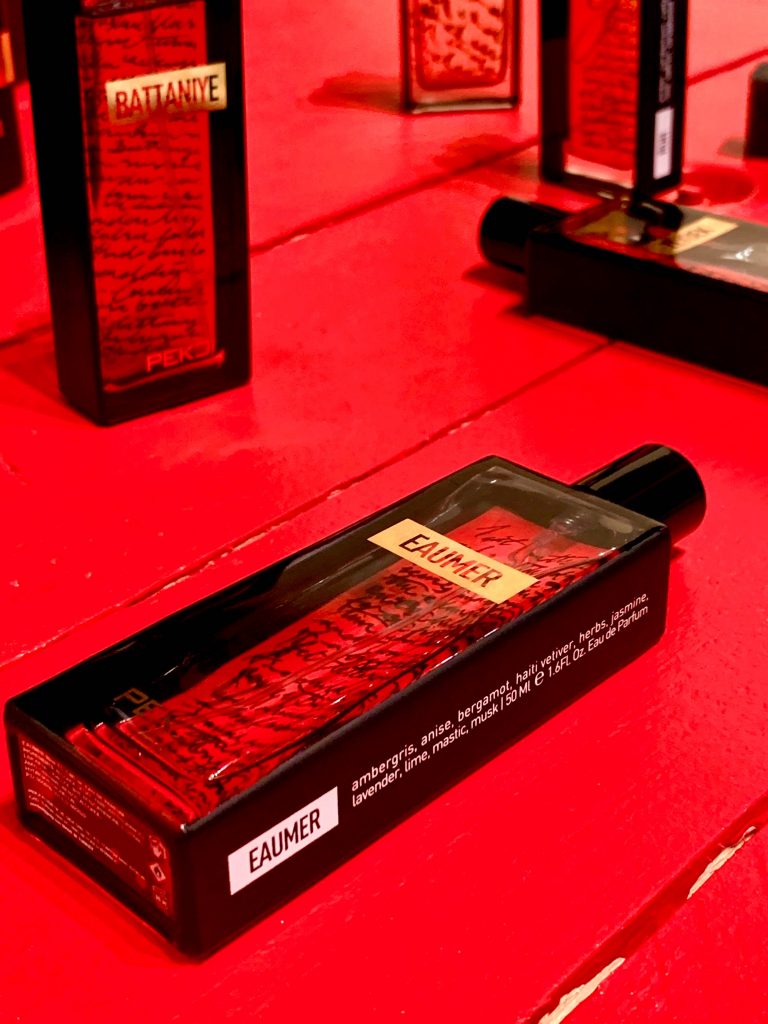 Pekji is a Turkish brand created by Omer Ipekci, who composed each of the brand's five fragrances. With a distinct, graphic aesthetic (thanks to Ipekci's background as an illustrator and graphic designer), Pekji boasts a bold identity with unique, punchy fragrances to match, each of which take inspiration from the perfumer's childhood. We were struck by the intense beauty of Ruh, a vivid rose shrouded in rich spices and woods, and the bracing, mineral quality of Eaumer, which presents an image of the ocean without the use of traditional aquatic notes. Pekji is a brand not for the faint-hearted and therein lies its strength – this is a perfume house with fascinating, unique fragrances that satisfy those who enjoy a bold and daring olfactory vision.
Miller Harris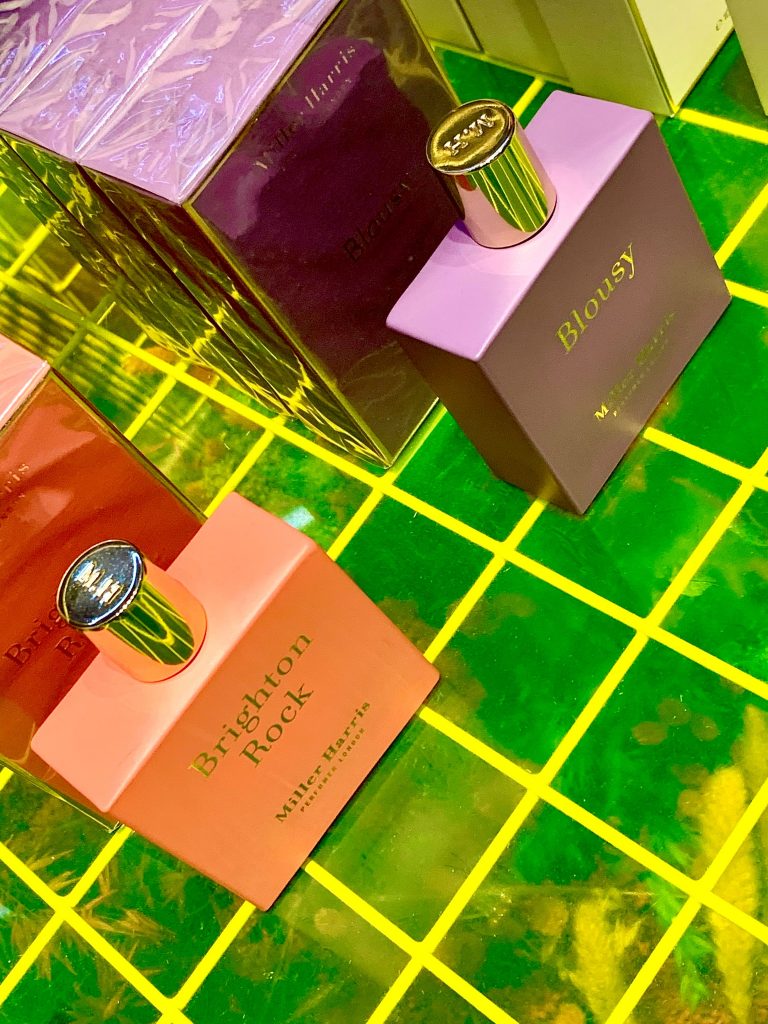 Our client Miller Harris definitely had the most vibrant and colourful stand at the show. Boasting neon tubes, and vinyl hanging flowers scented with their latest launches – and a fluorescent cage overflowing with flora – not to mention the colour blocks of spray-dyed perfume bottles – there really was nowhere more exciting to be than the Miller Harris stand. New launches such as Blousy (a juicy and flirtatious blend of strawberries and rose), upcoming offerings such as Secret Gardenia (a beautiful, buxom blend of white florals) and recent beauties such as DANCE Amongst the Lace (a minty fresh fougere that we're still obsessed with) all came together to make Miller Harris the most fun and innovative stand at Pitti this year. We are biased on that, of course.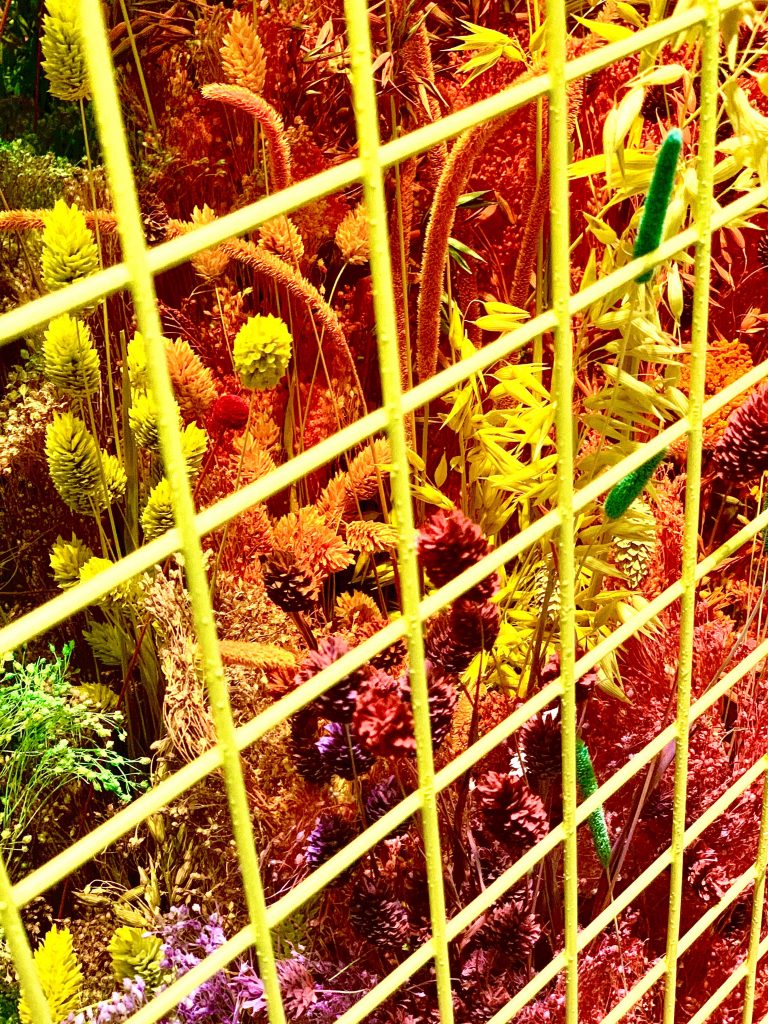 Maison Rebatchi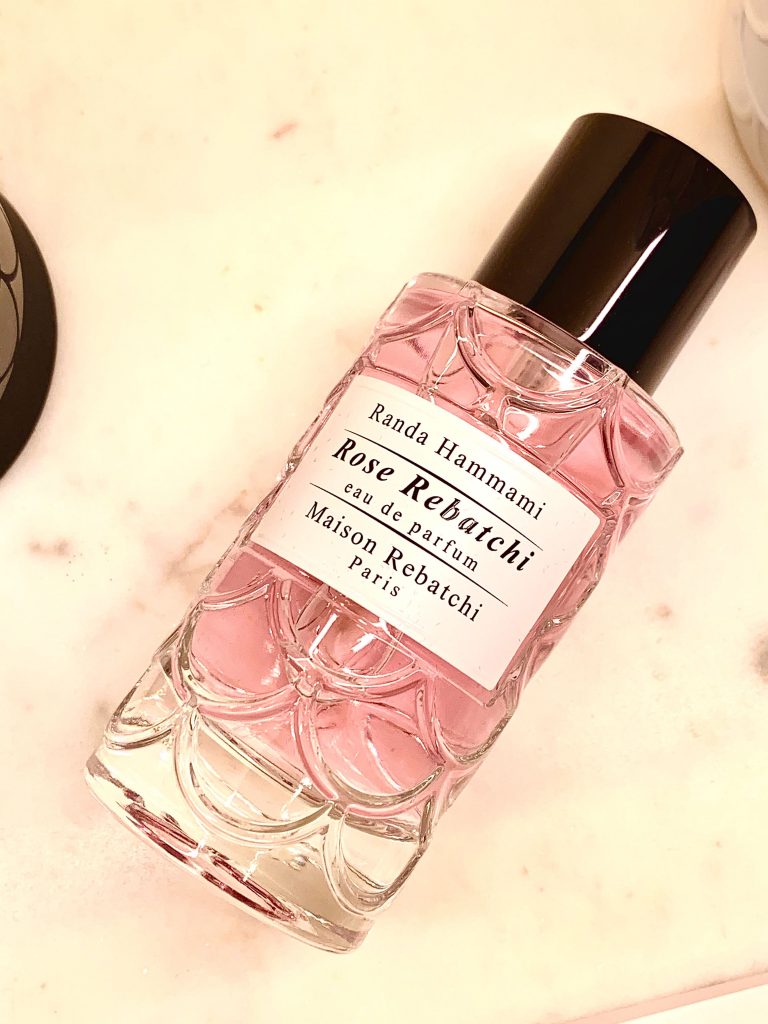 Everything about Maison Rebatchi stood out. The bottles, with their beautiful patterned glass, were an example of luxurious simplicty, whilst the fragrances inside were incredibly complex compositions that subverted expectations. Working with legendary perfumers such as Bertrand Duchaufour, Maurice Roucel and Randa Hammami, Maison Rebatchi has turned familiar materials like jasmine, osmanthus and patchouli on their heads, creating surprising perfumes that feel entirely new. Feu Patchouli is a patchouli on fire, exuding silver streams of mineral smoke. Rose Rebatchi is a wonderfully crisp and jammy rose that makes one feel as if they are standing in a field of roses first thing in the morning. Maison Rebatchi is one of those rare collections where every single fragrance is exceptional and we hope to see them in the UK sometime soon!
Jean-Claude Ellena
One of the key features of this year's show was the Jean-Claude Ellena retrospective. Curated by journalist Chandler Burr, the retrospective celebrated the life's work of one of the industry's most legendary perfumers, ranging from his very first fragrance (First for Van Cleef & Arpels) to his work as in-house perfumer at Hermes, and beyond to his latest creation, Rose & Cuir for Editions de Parfums Frederic Malle. Both Burr and Ellena were in attendance to stage an "in conversation" presentation where the perfumer provided rare insight into his career and process. Believe us when we say that we were on the edge of our seats! You can watch the entire talk here – either in the original French or via the English simultaneous interpreter.
BeauFort London
Finally, we cannot talk about Pitti Fragranze without mentioning Terror & Magnificence by BeauFort London. Read all about how we worked with BeauFort's Leo Crabtree to compose this brand new addition to their Revenants collection here.